Year-to-date to end August 2022, the US internet sector has seen stark de-rating.
In selected sub-segments, the longer-term prospects however are still sound given the supportive structural growth drivers underpinning the demand for services.
In other areas, the outlook may be challenging, but selected names (given their unique competitive advantage), may go through the upcoming cycle and emerge stronger.
For other players yet, they could potentially outperform their peers. Selectivity is the key.
All in, we believe earnings downgrades have bottomed and the risk-reward tradeoff, could be turning more attractive.
---
Backdrop
The US internet sector, as represented by the Dow Jones Internet Composite Index (DJINET Index) has declined by 38.3% in USD terms on a Year-to-Date (YTD) basis to end August 20221, reversing almost all the gains it had made over the past two-years from 2020 to 2021 (see Figure 1).
Figure 1: Performance and PE ratio of the Dow Jones Internet Composite Index (September 2012 to August 2022)
Source: Bloomberg, 31 August 2022.
Softer earnings growth, rising interest rates, and a challenging external backdrop have been cited as reasons for the de-rating. Valuations are at historical lows, with PE multiples for the sector now at c. 25x, compared to the historical 10-year average of 30x2. The last time valuations were this attractive was back in early 2013. This begs further questions – is the sector oversold and current valuations justified? And is there the potential for re-rating opportunity ahead?
We look to address these issues with our analysis below.
What's the view from the ground?
A sizeable fraction of the US internet sector comprises of companies in the (i) digital advertising, (ii) cloud computing, and (iii) ride-hailing sub-segments. Hence, our focus in this update on these three areas.
(i) digital advertising
Within digital advertising, we are expecting US online advertising expenditure (adex) to decline as we head into a weaker growth environment. This has been the case historically where growth of online advertising spend tends to slow in a recessionary environment – as was the case during the Dot.com crash in 2000 and the Global Financial Crisis in 2008, although during the short Covid-induced recession in 2020, adex was relatively resilient (see Figure 2).
Figure 2: US advertising spend – year-on-year percentage growth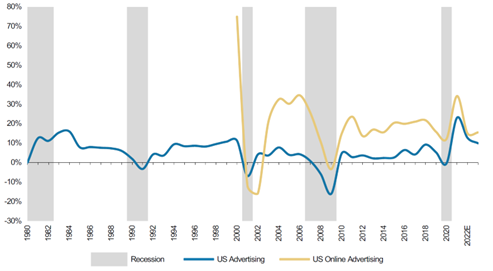 Source: Morgan Stanley Research, Magna, RAB, OAAA, IAB, NAA and PIB, 2022.
With weaker advertising spend, advertising revenues for the key US online names and social media platforms may come off, as has been the case since H2 2021 up to now. This may impact the earnings outlook for these online players, as advertising revenues form a core part of their overall revenue streams. However, the fall in advertising revenues may not be that steep if the upcoming recession is a shallow one. Further, the various US internet names are expected to go through the upcoming cycle in a differentiated manner – some may be more resilient than others as they are still seen as capable of providing higher Return-on-Investments (ROI) for advertisers on their platforms, while some have a more geographically diversified and widespread customer base, which makes them relatively more resilient in downturns. Selectivity is the key.
(ii) cloud computing
In cloud computing, although revenue growth has declined somewhat in the near-term for the big players like Amazon (Amazon Web Services), Microsoft (Azure), and Google (Google Cloud Platform), they have still been relatively steady.
The longer-term outlook for cloud computing is still constructive. We are in the early stage yet of rising demand for cloud-based services, as companies globally continue with the structural and multi-year trend of migrating their informational needs, data content, and network infrastructure online, to cloud-based servers, in-line with the rising need for quicker data access, flexible resourcing, and increased scale.
Investments into cloud-based systems is expected to remain robust. As it is, surveys on the Chief Information Officers (CIO) of major corporates show that cloud computing, cybersecurity, and digital transformation remain as top priorities (see Figure 3), and spending in these areas is expected to continue over the longer-term.
Figure 3: Morgan Stanley CIO survey shows Cloud Computing and Security Software remaining as top priorities
Source: AlphaWise, Morgan Stanley Research, n=100 (US and EU date), 2022.
(iii) ride-hailing
Finally in ride-hailing, this sector has seen significant de-rating on the back of stiff competition. Industry players over the years were willing to slash fees, and sacrifice margins in search of higher market share and growth rates. Some have expanded into other areas or verticals like online groceries and supermarkets. This has resulted in weak earnings and profit margins over the years. Although there has been some recent recovery from post-Covid re-openings, the expectations for a marked turnaround and profit recovery in the sector is still weak – hence the soft valuations. Investors are looking for signs of sustainable cash flows and earnings recovery over all-out growth rates to justify a valuation recovery.
In the sub-segment of delivery, demand seems to be holding up well despite the re-opening theme. The sub-segment benefitted strongly during the Covid years as consumers pivoted to online delivery platforms during the lockdowns, and this trend has continued even after lockdown restrictions have been lifted, marking possibly a permanent shift in consumer behaviour and consumption spending habits.
Historically, many of the players in the ride-hailing sector were able to grow due to strong start-up funding from various sources. However, with funding now increasingly scarce or becoming more expensive, because of tighter monetary policy globally, the expansion spree of some of these players will slow as consolidation sets in. Very likely, the ride-hailing space may transition into a few players market, where only a few stronger names that can execute their strategies well while maintaining sustainable cash flows survive.
We are already seeing early signs of consolidation with some ride-hailers looking to streamline away their non-core businesses, right size their staff strength, and exit from less profitable markets globally. Again, selectivity is the key in identifying the players that are likely to stay afloat and stand the test of time.
Headwinds to watch
Besides competition, a weaker macro backdrop, softer external environment, and numerous geopolitical headwinds, dollar strength is another key indicator to be watchful of. Some large US internet names have a meaningful portion of their overall revenues (more than 50%) derived from overseas sources. As such, a rising dollar may be detrimental to earnings from foreign exchange translation losses for these names.
Conclusion
All things considered, the US internet sector is trading at a steep discount now. While this to some extent is understandable given the soft macro conditions and stiff cost pressures in selected sub-industries of the sector, there are selected sub-segments where the long-term growth prospects are still sound given the supportive structural growth factors underpinning the demand for services in these sub-industries, such as in cloud computing for example.
Additionally, a lot of the large US internet names are under-owned in actively managed portfolios at this point in time. Their positions now are relatively light, suggesting that further sell downs and rebalancing away from these names at this point, may be limited.
In short, while the overall US internet sector has de-rated, there are selected sub-segments where if one looks under the hood and examines it further, may find that the long-term demand profile for their services as well as their revenue drives remain intact, due to long-standing structural reasons. This could suggest that indiscriminate selling across the board has taken place, where some fundamentally sound names have seen their valuations unjustifiably de-rated. Selected companies within their industry could also manage the external challenges better due to their inherent competitive advantage, and thus potentially outperform their peers.
Lastly, there is the general sense that the bulk of the valuation de-rating in the US internet sector is largely behind us, and earnings downgrades have bottomed out. As such, the risk-reward trade-off could be turning more attractive and there could be selective opportunities ahead in certain sub-sectors of the wider US internet space for the discerning investor.
1,2 Source: Bloomberg, 31 August 2022.